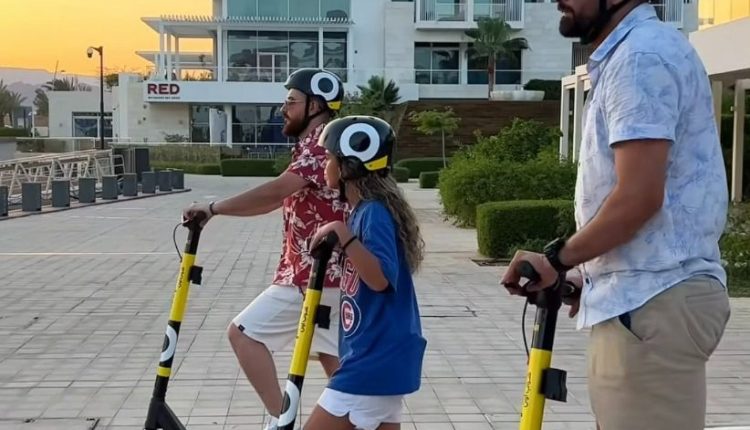 Ayla Signs Partnership with HopOn for smart transportation within Ayla
Today, Ayla Oasis Development company announced its partnership with HopOn, the first specialized Saudi owned micro-mobility company with the purpose of introducing environmentally friendly transportation services to the Ayla community. This partnership also comes as part of Ayla's strategy to reduce carbon footprint and develop green transportation within Aqaba.
Through this partnership, Ayla and HopOn will provide active transportation methods such as smart scooters which will help in changing individual's transportation habits through reducing automobile usage and decreasing emissions, promoting a lifestyle full of healthy choices for its users.
HopOn provides numerous choices of environmentally friendly transportation choices, ranging from electric scooters to three-wheel scooters to bicycles to electric mountain bikes to electric cargo bikes, and golf carts.
Through this partnership, Ayla and HopOn are creating unique experiences in providing greener transportation alternatives that are environmentally friendly and easy to use for Ayla's residents and visitors to move from one facility to another. HopOn will be organizing and managing everything completely.
Within the upcoming month, the partnership will begin preparing Ayla's sites for the new transportation services that will be placed throughout all of Ayla's facilities. Some of the facilities include: B12 Beach Club, the Golf Academy, Ayla's Hyatt Regency, Cloud 7 Residences, Island Apartments in addition to the employee's offices.
Sahl Dudin, Ayla's managing director stated "We are looking forward to this partnership with HopOn to provide innovative transportation solutions within Ayla. We strive to provide convenience to Ayla's community while reducing vehicular traffic. This partnership also comes as part of our efforts to reduce harmful emissions, and to transform transportation within Ayla."
Dudin added, "We have always believed that developing the transportation system was an essential part of contributing to a more sustainable environment and we are confident that our partnership with HopOn will pave the way for more environmentally friendly and efficient modes of transportation within Aqaba."
HopOn CEO, Mr. Jamil Jamjom expressed his enthusiasm for the upcoming partnership by stating, "We are proud to expand our HopOn community to Jordan. This partnership with Ayla marks the beginning of revolutionizing the transportation sector and increase long term environmental practices. We hope to provide easy, smart, and environmentally modes of transportation to the Ayla community."
Launched in 2019, HopOn has reached over 250,000 users. The company provides an application that merges, controls, and manages all vehicles, GPS tracking systems, route determination, speed control, and designated parking areas.